I am the son of an artist and artistically reclined. I'm always on the look out for resources which will inspire me to pick up a pencil and brush and actually create something. With that in mind, I delved into Al Gury's Foundations of Drawing: A Practical Guide to Art History, Tools, Techniques and Styles. Gury chairs the painting department at the Pennsylvania Academia of Fine Arts where he teaches drawing, and his works have been exhibited at the F.A.N. Gallery, in Philadelphia, and the National Academy of Design, in New York.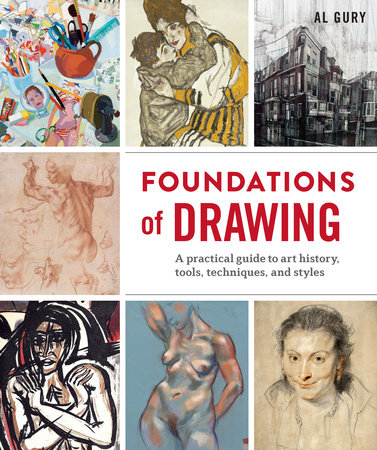 Foundations of Drawing is not a "how to" book, with step-by-step instructions or a flourish of happy trees. Instead, Gury has compiled a resource which discusses the essential elements to drawing: art history, art mediums, materials and tools, skills and techniques, aesthetics and various subject matters (e.g. still lifes, architecture, portraits and figure drawing).
As such, I found this to be a good
at-a-glance' resource for understanding the building blocks of drawing. It is like Elements of Style for artists, but with a lot more naked people. I knew a lot of the 'art history' portion of this book already, but the section on drawing materials was quite informative as a resource for understanding different drawing mediums & instruments (e.g. pen, pencil, charcoal, chalk, pastels, crayons, brush and paints, mix media). The section on techniques also has great information on how to achieve certain effects in various medium, and in composing drawings.
The book is full of illustrations, demonstrating a variety of styles and techniques (as shown from the cover). I would recommend this book to anyone interested in honing their craft as an artist and learning about various styles. Beginner artists may wish for a more step-by-step manual, but this would still be a good resource to have around. I give it four stars. – ★★★★
Notice of material connection: I received a copy of this book from Blogging For Books in exchange for my honest review.