"There was a rich man who was dressed in purple and fine
linen and who feasted sumptuously every day. And at his gate lay a poor man
named Lazarus, covered with sores, who longed to satisfy his hunger with what
fell from the rich man's table; even the dogs would come and lick his sores.
The poor man died and was carried away by the angels to be with Abraham. The
rich man also died and was buried. In Hades, where he was being tormented, he
looked up and saw Abraham far away with Lazarus by his side.  He called out, 'Father Abraham, have mercy on
me, and send Lazarus to dip the tip of his finger in water and cool my tongue;
for I am in agony in these flames.' But Abraham said, 'Child, remember that
during your lifetime you received your good things, and Lazarus in like manner
evil things; but now he is comforted here, and you are in agony. Besides all
this, between you and us a great chasm has been fixed, so that those who might
want to pass from here to you cannot do so, and no one can cross from there to
us.' He said, 'Then, father, I beg you to send him to my father's house— for I
have five brothers—that he may warn them, so that they will not also come into
this place of torment.' Abraham replied, 'They have Moses and the prophets;
they should listen to them.' He said, 'No, father Abraham; but if someone goes
to them from the dead, they will repent.' He said to him, 'If they do not
listen to Moses and the prophets, neither will they be convinced even if
someone rises from the dead.'" -Luke 16:19-31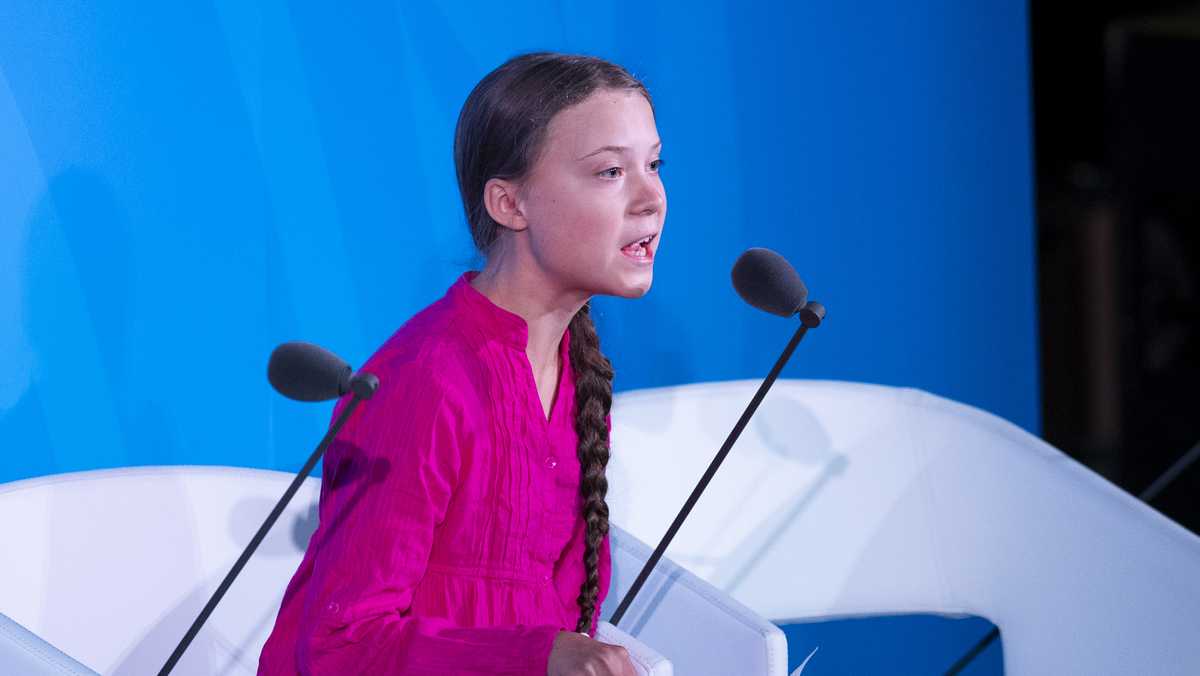 If you watched the news this past week, you probably saw enough to be discouraged about the state of things. Greta Thunberg gave an impassioned speech at the UN about climate change and the impact on, particularly the younger generation. Many of us are in awe of her bold powerful speech but a slew of climate-denying pundits, questioned her grasp of the situation—"she is only a child," "she is on the spectrum," and "she is being used by the left to hoist their environmentalist agenda on the rest of us."
Also this week, the speaker of the house, Nancy Pelosi, announced the beginning of an impeachment inquiry in relation to a phone conversation between President Trump, and Ukraine President, Volodymyr Zelensky. As more information about this conversation has come to light, including a transcript of their conversation, and the whistleblower's complaint, it has been interesting watching the various responses. Those on the political Left see clear evidence of high crimes and misdemeanors. Those on the Right may allow that the conversation wasn't Trump's finest moment, but there is no "quid-pro-quo" and 'nothing approaching something criminal.'
I mention these examples from the news, not because I am trying to make a partisan, political statement which you may or may not agree with, but to point out the obvious. People with the same access to information, observing the same event can come away with radically different interpretations. There is lots of reasons for this. We each carrying our own set of assumptions based on experience, socioeconomic status, education, and personal beliefs. We each have our own starting point and our own vantage point on events.
When we turn to the parable of the Lazarus and the Rich Man, we have an example of two men with very different starting points, and as it happens, two very different end points. A rich man and a poor man die. The rich man finds himself in the place of the dead, suffering in the flames, the poor man at the side of Abraham. The rich man begs Abraham to send Lazarus, the poor man to him, to give him some relief." But he is rebuffed, "Child, remember that during your lifetime you received your good thinv gs, and Lazarus in like manner evil things; but now he is comforted here, and you are in agony. Besides all this, between you and us a great chasm has been fixed, so that those who might want to pass from here to you cannot do so, and no one can cross from there to us.'
That the rich man finds himself brought down and a poor beggar is lifted up, may be a reversal of each's expectations but this is very much in keeping with the message of Luke's Gospel, where Mary sings, "the hungry are filled with good things and the rich go away empty" (Luke 1:53), Jesus announces that he comes to proclaim "good news to the poor" (Luke 4: 17:21) and pronounces judgment on the rich and comfortable because they have already received their consolation (Luke 6:24-26).
If the experience of the rich man and Lazarus is radically different in the next life, one thing remains consistent. a great chasm has been fixed between them.
"The Great Chasm"
The entire parable contrasts the rich man and Lazarus. We are told at the beginning of the parable that the rich man dressed in purple and fine linen and that he feasted sumptuously everyday (v19). Purple was an expensive dye in the ancient world, reserved for wealthy elites. As was fine linen. This was their equivalent to red-carpet designer fashions. He feasted on delicacies every day in his father's house with his five brothers. This was a wealthy, decadent family, no doubt famous and celebrated for being wealthy. Perhaps they were the ancient world's equivalent to the Kardashians. When the rich man dies, he is buried. There was likely an elaborate funeral procession with all the important people attending.
At his gate sat a beggar named Lazarus. Lazarus longed to be fed by trickle down economics—the crumbs that fell from the rich man's table. Instead he is left out by the gate. Dogs would come and lick his open sores. These weren't well coifed Bishon Frises and Labradoodles but unclean scavengers, who came and licked his open wounds, making him ritually and perpetually unclean, marked off from his community. He had no family of his own to look after him and when he dies there is no mention of a burial. But he is whisked away by angels to Abraham's side.
Lazarus was the poor man who discovered his place in the kingdom of heaven, but the rich man, already had his consolation.
When the rich man calls out to Abraham from the flames, it is remarkable that he knows Lazarus's name. There is no evidence in the parable that he ever spoke to him and even now, he only addresses Abraham. "Father Abraham, show mercy and send Lazarus to me to cool my tongue for I am in agony." He is still operating from a place of privilege and entitlement, expecting to command the poor and vulnerable to do his biding.
But the rich man is told he had a lifetime of good things while Lazarus had none, but now Lazarus is comforted.
Now this is a parable and I am not sure it is intended as an accurate depiction of the afterlife but if we contrast the two men we hear of a decadent rich man who lived a life of self-centered entitlement and a poor beggar who is ultimately blessed by God. The name Lazarus comes the Hebrew name Eleazar meaning the one who is helped by God. One man had the resources to help the other but left him out by the gate. The other man died alone and homeless and vulnerable and welcomed into the kingdom of God.
I wonder if the rich man's afterlife would be different if he braved the great chasm in life and used his dishonest money and resources to make friends with Lazarus the beggar.
What about us? Who are the folks across the great chasm from us? Maybe, like in the parable, you are on one side of the have or have nots divide. Maybe it is political. Like the examples I mentioned above, about some conservative and liberal responses Greta Thunberg or the president's phone call you would think that the left and the Right have nothing in common with one another.
There is some research to back that up. Conservatives and Liberals seem to have different brains. There are various studies that show liberals tend to have more brain activity in the left anterior insula, the section of the brain that regulates emotion and is associated with compassion and empathy while conservatives have more activity in the right amygdala, the part of the brain responsible for regulating our fear response.[1] So when you hear your ultra-liberal friends talk about the need to be compassionate to those asylum seekers on our southern border and your ultra conservative friends are talking about how we need to have strong border security to keep our country safe from terrorists, drug dealers and some very bad people, there very brains tell them to think the way they do about the world around them. It is as though a great chasm has been fixed between the two.
Or has it?
When the rich man knows Lazarus won't come to his aid, he asks instead for Abraham to send Lazarus back to earth to warn his 5 brothers of coming judgment. And Abraham answers, if they don't listen to Moses and the Prophets, neither will they be convinced even if someone rises from the dead."
Beyond the reference to Jesus' own death and resurrection, Abraham's word to the rich man is that his brothers already have everything they need to know that they are danger of God's judgment. With a lifestyle of feasting and finery they left a poor beggar at their gate to have his sores licked by dogs. In the Torah, Israel was repeatedly urged to care for the poor, the widowed, the alien and the orphan (cf Deut 14:28-29; 24:17; Exodus 22:22) When Israel harvested their land, they were to leave some of the fruits of harvest in the field so that the poor could come and glean and no one in the land would go hungry.(Leviticus 19:10-11) When we turn to the Hebrew prophets, we hear page after page warning Israel that their failure to care for the vulnerable, would result in exile and judgment.
6 brothers partied in their house while a poor beggar sat at their gate, hungry, destitute, dogs licking his sores. But if the dead beggar came back, wouldn't the other 5 brothers listen to him?
Abraham says no. And he is right.
Resurrection and Confirmation Bias
Confirmation bias is a thing. We tend to give weight to the evidence which reinforces our view of the world and produce explanations which cover the counterevidence. So, when we read the gospels it is interesting to see how people respond to Jesus's miracles. He heals on the Sabbath, and some are impressed by his compassion and authority, and they praise God while others point at how by breaking the Sabbath, he is leading the Jewish people away from Torah. They see the same event. Two radically different interpretations consistent with their own worldview. Or consider miracles in general. John's gospel calls miracles "signs" because they give us a demonstration that Jesus is truly the Word made flesh. But at times these miracles become a spectacle which distract from the message of Jesus. John Tucker observes, "[Jesus] says that some people cannot see the truth because they are hung up on the miracle."[2]
Had Lazarus the dead beggar came back to warn the brothers. I don't think they would have changed anything. They would have called the exorcist to drive him away. They didn't let that man inside the gate when he was alive, there would be no way, they'd let him in now that he was one of the walking dead. They might be momentarily arrested at the sight of him, but then one of them would open a fresh bottle of wine, and they'd turn the music up until the voice of the crying beggar was drowned out, as much as it ever was.
When I read this parable, the message I come away with is this: cross the great chasm. Include the person who is easiest for us to exclude.  Become the type of person that will include those who view the world differently. Don't assume your view of the world is the most right, become open to challenges. Become a person who listens. Listen to scripture as it challenges us to not just live for our own enjoyment and comfort, but to expand our care for the vulnerable and to live for God. And if some one rises from the dead and you find him standing at your door, knocking, you may want to listen to what he has to say.
William Holman Hunt – "The Light of the World"- Manchester Version, Painted between 1851-1856

---
See Hilary Bruek, "These key psychological difference can determine whether you're liberal or conservative" Business Insider, April 19, 2018. // www.businessinsider.com/psychological-differences-between-conservatives-and-liberals-2018-2; Ryota Kanai, Current Biology. "Political Orientations Are Correlated with Brain Structure in Young Adults, April 07,2011 // www.cell.com/current-biology/fulltext/S0960-9822(11)00289-2#%20; Darren Schreiber, "Red Brain, Blue Brain: Evaluative Processes Differ in Democrats and Republicans," February 13, 2013 // https://journals.plos.org/plosone/article?id=10.1371/journal.pone.0052970.
[2] John Tucker, Zero Theology: Escaping Belief through Catch-22s, (Eugene: Cascade Books, 2019), 30. Tucker is commenting on Jesus' miraculous feeding of the 5000, and the fact that the multitudes follow him only because they ate the bread and were filled (30).